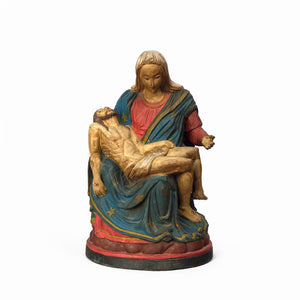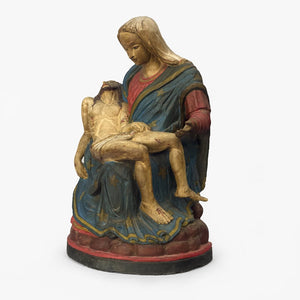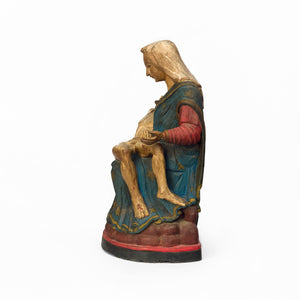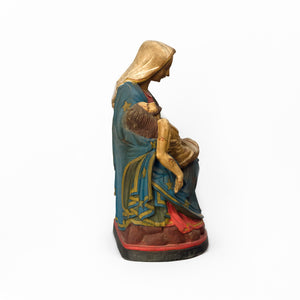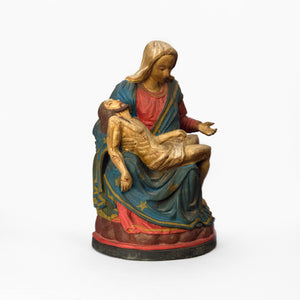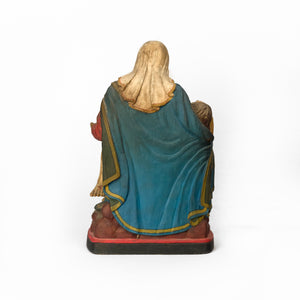 WOODEN IDOL OF MOTHER MARY WITH JESUS
This vintage, hand carved and beautiful figure is of the most worshipped Christian deities of Mother Mary with Jesus . This Mother Mary idol belongs to the Portuguese era and is from Goa. The wooden idol has been adorned with polychrome paint. 
Mary or Mariam of Nazareth is the mother of Lord Jesus. Many believe that she conceived her son as a virgin, by the Holy Spirit. Hence she is also referred to as Virgin Mary. Mother Mary is considered as the most meritorious Saint by millions of Christians. 
Jesus Christ is the central figure of Christianity and is believed to be the Son of God. The birth of Jesus is celebrated annually as Christmas. Jesus died by crucifixion as a sacrifice to achieve atonement. The idol depicts the scene of Virgin Mary holding the dead body of Christ after his crucifixion, death and removal from the cross. This wooden idol also seems to be inspired by the marble sculpture of Mother Mary and Jesus by Michelangelo – the Pieta in Rome.
This painted wooden idol of Lord Jesus with Mother Mary from the Portuguese era is a rare collectible which is very difficult to come by.
The Antique Story
WOODEN IDOL OF MOTHER MARY WITH JESUS
X
Raise an Inquiry for Similar Pieces.