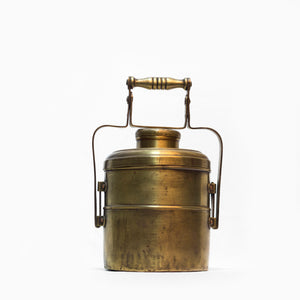 VINTAGE TIFFIN BOX
This unique collectible is a tiffin box  from Rajasthan.
The brass tiffin box is two tiered and has a lovely holder and locking mechanism.These were used to carry lunch to office or fields which were far from the villages. Usually one compartment is used to store breads and the other for vegetables or rice. The small box on the top is used to carry pickles. Tiffin carriers are generally made out of steel and sometimes of aluminium, but enamel and plastic versions were made by western companies.
This beautiful tiffin box can be used to store trinkets or just as an decorative object to enhance your kitchen décor.
This object is photographed without touching its original condition, it can be cleaned and polished to suit your needs
The Antique Story
VINTAGE TIFFIN BOX

X
VINTAGE TIFFIN BOX
info@theantiquestory.com
Thank you. We are happy that this beautiful collectible is finding a lovely home! Please leave your contact details so we can confirm it's availability and let you know the shipping costs for you to complete the purchase.