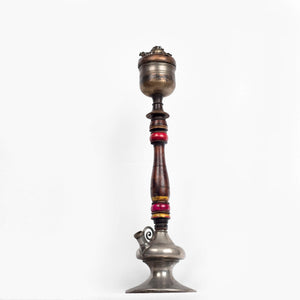 VINTAGE ORNAMENTAL HOOKAH
The use of hookah in the old times was not just a part of the custom, but also thought of as a matter of prestige. Hookah is an instrument which is used for vapourising and smoking tobacco. The main components of a hookah are a bowl (the head of the hookah used to hold coal and tobacco), windscreen (a screen over the bowl that prevents wind from increasing the burning), hose (a tube that allows smoke to be drawn) and water base (body of the hookah that holds water).
This ornamental hookah made of metal and wood is from Uttar Pradesh. The base, purge valve, and bowl of this antique hookah are made of metal while the stem and lid are made of wood. The stem is painted in bright colours. You will love to add this antique hookah to your collection of vintage items.
According to one of the theories, hookah originated in India during the Mughal reign. It spread from India to the Near East. There is also another claim that hookah originated in Persia. Irrespective of its origin, it spread all across the world.
If you have been searching for vintage decor objects online, you have landed on the right page. At The Antique Story, we have selected antique items for sale in India. Checkout our website to find rare and vintage collectibles to add to your collection or to enhance your interior decoration.
The Antique Story
VINTAGE ORNAMENTAL HOOKAH

X
VINTAGE ORNAMENTAL HOOKAH
info@theantiquestory.com
Thank you. We are happy that this beautiful collectible is finding a lovely home! Please leave your contact details so we can confirm it's availability and let you know the shipping costs for you to complete the purchase.