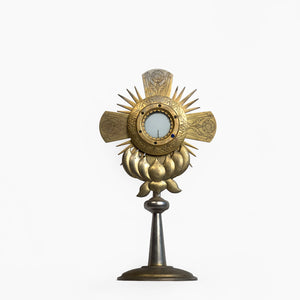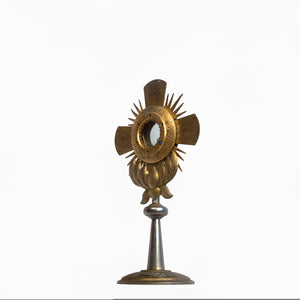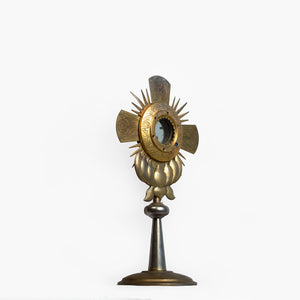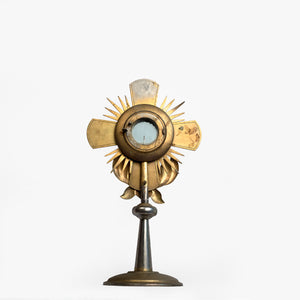 VINTAGE MONSTRANCE
This unique vintage collectible is an antique Christian Monstrance used in churches. It is made of metal and has a dual tone finish. This antique monstrance has the typical design of a portable monstrance – a sunburst at the centre with a cross on the top and a stand below. A unique feature of this monstrance is that it has a lotus base.
A monstrance is a vessel used for public display of sacred objects or relics of saints and is usually carried by the priests. Monstrance was designed in both simple and elaborate designs, and some were even embedded with precious stones. The elaborate monstrances generally have a fixed design.
Are you looking for an antique Christian Monstrance to add to your collection of antique Christian art or add a mystical touch to your prayer room design? At The Antique Story, we have an exquisite selection of antique items online. We curate vintage items from authentic sources and verify them before we display them on our niche online store.
The Antique Story
VINTAGE MONSTRANCE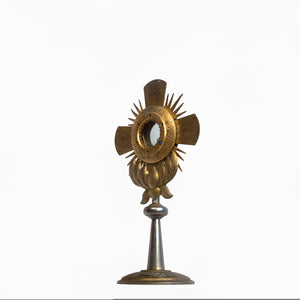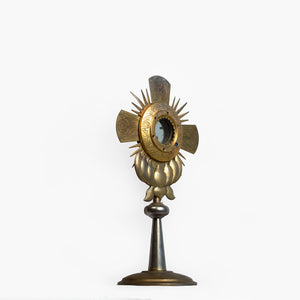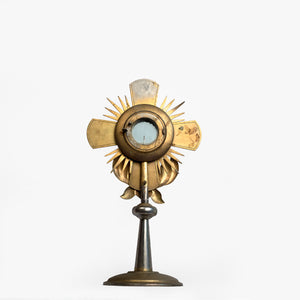 X
VINTAGE MONSTRANCE
info@theantiquestory.com
Thank you. We are happy that this beautiful collectible is finding a lovely home! Please leave your contact details so we can confirm it's availability and let you know the shipping costs for you to complete the purchase.