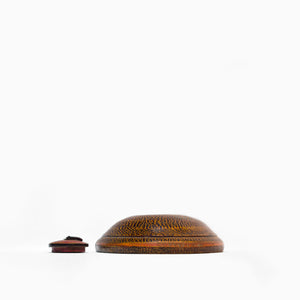 TEXTURED WOODEN OPIUM BOX
This beautiful and very rare collectible is an antique opium box believed to be from Rajasthan. This vintage collectible was specifically used to store opium that was used to make opium teas. It is believed that in Rajasthan, opium teas were served during rituals and ceremonies, mainly to forge a bond. This ritual formed a very important part of the cultural fabric of life in those days.
This handmade antique opium box with a lid is made of wood and features intricate pattern over. A small ring on the lid makes it easy to open and close the wooden opium box. This opium box will definitely add an ethnic charm to your home décor. You can also use this rare antique collectible to store your precious trinkets.
The Antique Story is an online portal that has a unique selection of antique kitchenware, furniture, curios, and other items perfect for your vintage-themed interiors. Check out our website for more such interesting vintage collectibles.
The Antique Story
TEXTURED WOODEN OPIUM BOX
X
Raise an Inquiry for Similar Pieces.