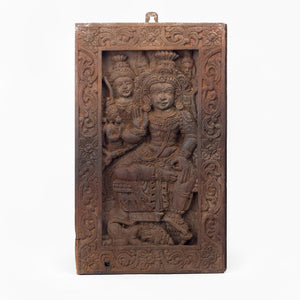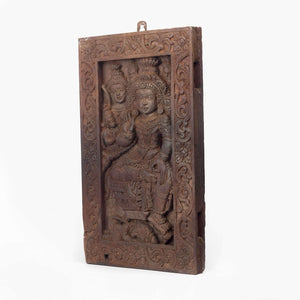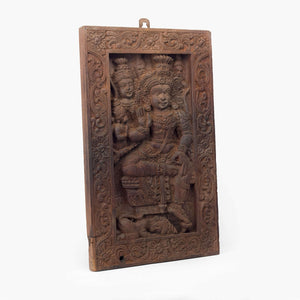 RAM, LAKSHMAN AND HANUMAN
This beautiful and intricately hand carved wooden panel of Lord Ram, Lakshman and Hanuman. This vintage panel is believed to be from Central Kerala.
Ram, Lakshmana and Hanuman are the popular deities  of Hinduism from the ancient Hindu epic Ramayana. Ram is the seventh incarnation of Lord Vishnu and is considered as the supreme being (Maryada Purushottam). He is the eldest son of King Dasharatha of Ayodhya. Lakshmana, Bharata and Shatrughna are his siblings. Ram is married to Sita, princess of Mithila.
Lakshmana is the most loyal to Ram and serves him reverently and is always by his side, even during their 14 year exile. Hanuman is believed to be a son of wind God Vayu and a son of Anjana and Kesari, is an ardent devotee of Lord Ram. The legend of Hanuman is also famous outside Indian subcontinent in countries like Thailand, Cambodia, Indonesia, Malaysia.
This decorated wooden panel will add devotional and ethnic charm to your décor.         
The Antique Story
RAM, LAKSHMAN AND HANUMAN
X
Raise an Inquiry for Similar Pieces.