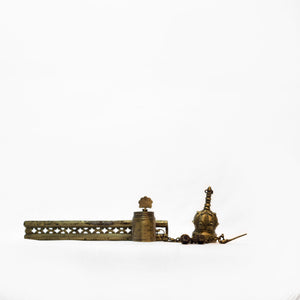 ORNAMENTAL METAL INK POT WITH PEN CASE
If you are looking for a unique gift for someone who loves collecting antique items, check out this vintage ink pot. With intricate detail and brass construction, this vintage collectible looks stunning. This rare ink pot is one of the antique writing instruments, which is believed to be from Gujarat.
The base of the ink pot is shaped like a chariot with the body of the chariot forming the ink well. A tree-shaped structure is seen at the back of the ink well. The lid is Pagoda shaped and has delicate motifs carved on it. The long brass pen case has intricate patterns cut into it. A brass chain attaches the lid to the ink well.
This vintage ink pot will look great on a study table or an office desk. You can also get antique pens to go with this rare collectible. Find an exclusive selection of vintage items at The Antique Story
The Antique Story
ORNAMENTAL METAL INKPOT WITH PEN CASE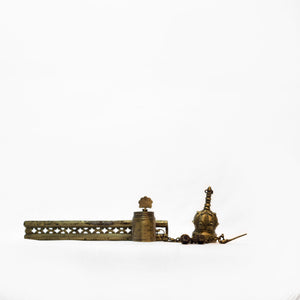 X
ORNAMENTAL METAL INKPOT WITH PEN CASE
info@theantiquestory.com
Thank you. We are happy that this beautiful collectible is finding a lovely home! Please leave your contact details so we can confirm it's availability and let you know the shipping costs for you to complete the purchase.