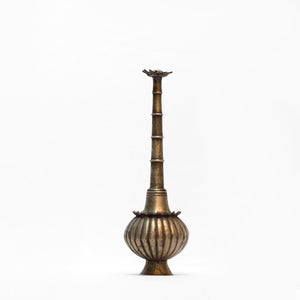 ORNAMENTAL METAL GULABDANI
This beautiful and unique collectible is a gulabdani from Rajasthan. Gulabdani is used as a rosewater or perfume sprinkler during auspicious occasions and ceremonies. Rosewater was traditionally sprinkled to welcome guests in India for its refreshing effect. The tradition of using rosewater came from Iran, it was practiced during the festival of Ab Pashan.
The elaborately decorated gulabdani is made of brass. It has a decorated base to hold the perfume and a long stem topped by a flower shaped dispenser.
This rare gulabdani will definitely add an antique charm to your home décor.
This object is photographed without touching its original condition, it can be cleaned and polished to suit your needs
The Antique Story
ORNAMENTAL METAL GULABDANI

X
ORNAMENTAL METAL GULABDANI
info@theantiquestory.com
Thank you. We are happy that this beautiful collectible is finding a lovely home! Please leave your contact details so we can confirm it's availability and let you know the shipping costs for you to complete the purchase.