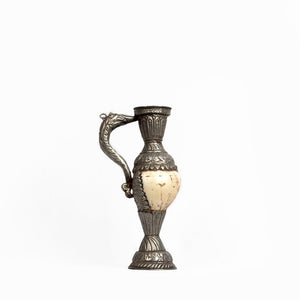 ORNAMENTAL CONCH
This interesting and vintage collectible is a conch that has been decorated with finely carved metal.
A conch is a very important ritual object and is considered auspicious in Hinduism. It is used as a trumpet in the beginning of ceremonies or pujas. The sound of Conch is also believed to drive away evil spirits. As per Hindu iconography, Lord Vishnu always carries a special Conch called Panchajanya.
This decorated Conch will make a simple yet stunning statement placed anywhere.
The Antique Story
ORNAMENTAL CONCH
X
Raise an Inquiry for Similar Pieces.