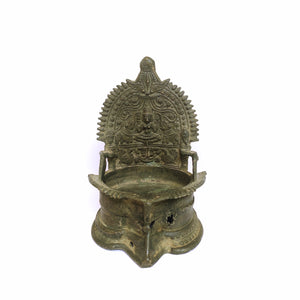 GAJA LAKSHMI LAMP
Gaja lakshmi oil lamp (also called Devi Kamakshi lamp) in bronze with engraving of Goddess Lakshmi in the center flanked by two elephants (gaja) with an arch crowned by kirtimukha at the top. The base also depicts two swans with another kirtimukha and two dwarapalakas (guardians) on either side. Gaja Lakshmi sculptures are seen at the entrances of most temples in India. Considered as auspicious and a sign of new beginnings and good luck. These lamps are seen in every house in South India and are passed on from generation to generation. This lamp from Tamil Nadu is made using lost wax method.
Lost wax technique of casting is an age-old method dating back to at least 5700 years. This method gained prominence in India during the Chola period in the 11th century.
The Antique Story
GAJA LAKSHMI LAMP

X
GAJA LAKSHMI LAMP
info@theantiquestory.com
Thank you. We are happy that this beautiful collectible is finding a lovely home! Please leave your contact details so we can confirm it's availability and let you know the shipping costs for you to complete the purchase.