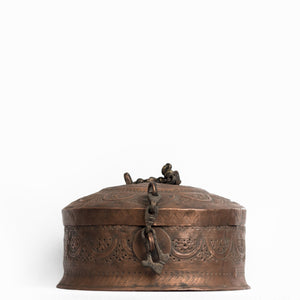 CHAPATI BOX WITH INTRICATE PATTERN
The vintage chapati box, which is believed to have been used in the traditional kitchens of Rajasthan. This hinged box is made of brass and has an exquisite hand carved body. The domed lid has intricately carved patterns and a very interesting latching mechanism secured by a chain.
In the early times, it was used as a chapati storage box. However, now you can use it for various decorative and functional purposes. Use this chapati storage box to keep trinkets or just as a decorative object to enhance your home décor. This vintage chapati box makes for a simple, yet stunning statement placed anywhere.
If you are looking for antique items for sale online, you have come to the right place. At The Antique Story, we have an exquisite selection of vintage kitchenware and other rare curios.
The Antique Story
CHAPATI BOX WITH INTRICATE PATTERN

X
CHAPATI BOX WITH INTRICATE PATTERN
info@theantiquestory.com
Thank you. We are happy that this beautiful collectible is finding a lovely home! Please leave your contact details so we can confirm it's availability and let you know the shipping costs for you to complete the purchase.