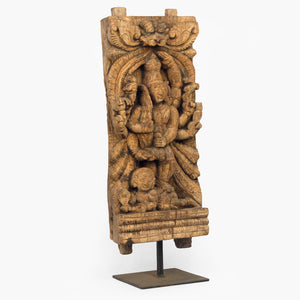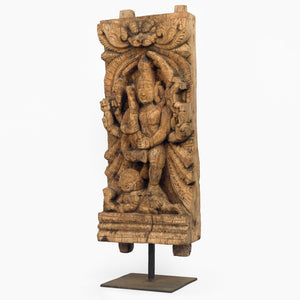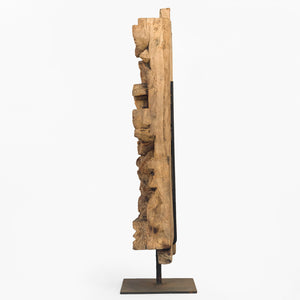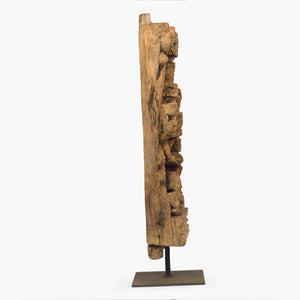 VISHNU'S VAMANA AVATAR
 Vamana, also referred as Trivikrama is Lord Vishnu's fifth avatar where he reincarnates as a dwarf priest to stop Mahabali, the mighty and benevolent asura king from conquering all the three worlds. Vishnu as Vamana went to Bali asking for alms and asks for land that he could occupy with his three footsteps. Bali readily agreed without realising that he was the great Vishnu himself. Vamana then grew into gigantic proportions and occupied earth and heaven in two of his footsteps. For lack of space Bali offers his head to Vamana for his third step and Vamana steps on it sending Bali to Patalaloka (netherworld). As a reward for his humility, Bali is allowed to return to earth once a year to check on his citizens. The Onam festival in Kerala and first day of Diwali in parts of India is related to return of Mahabali.
Intricately carved wooden chariot pieces like this one were also used to decorate chariots .Temple cars or chariots also called as "Rathas" are vehicles used to carry idols of Hindu gods in processions on annual festival days. These are usually made of wood and in most cases have exquisite and intricate carvings on multiple set-in panels. The carvings can be images depicting stories from puranas, deities, mythical animals like Yali, ganas, dancers, real animals etc.
These rathas decorated with flowers and jewels are pulled with thick ropes by hundreds of devotees. Rathas from different parts of India vary in style and size.  The anglo-Indian term "Juggernaut" was inspired by the large temple cars at Jagannath temple, Puri. The chariot at Thiruvarur, Tamil Nadu is said to be the largest – 29 metres tall and weighing over 300 tonnes.
This carving of a bygone era can be a great vintage decor conversation pieces for your living room, hallway or study.
The Antique Story
VISHNU'S VAMANA AVATAR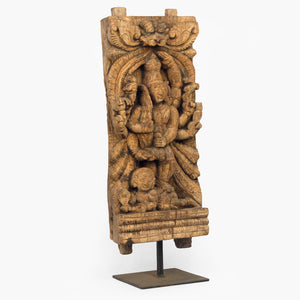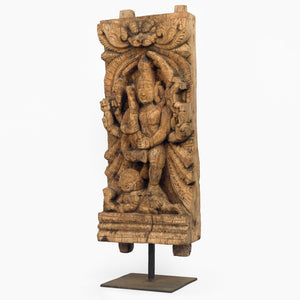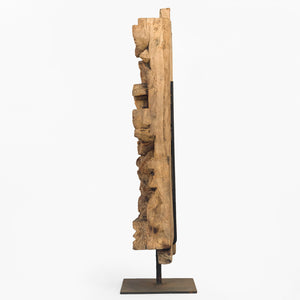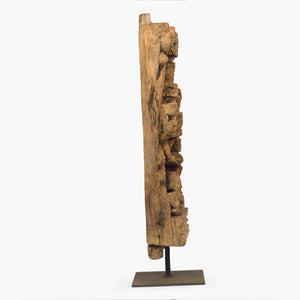 X
VISHNU'S VAMANA AVATAR
info@theantiquestory.com
Thank you. We are happy that this beautiful collectible is finding a lovely home! Please leave your contact details so we can confirm it's availability and let you know the shipping costs for you to complete the purchase.