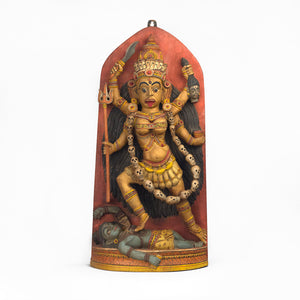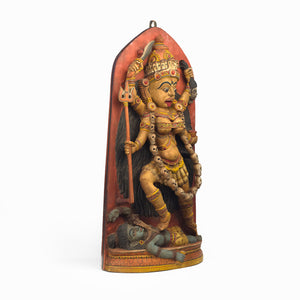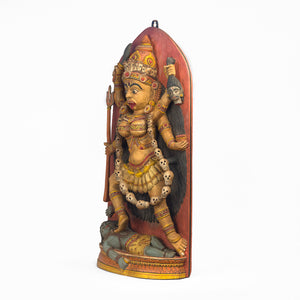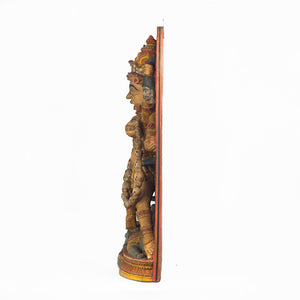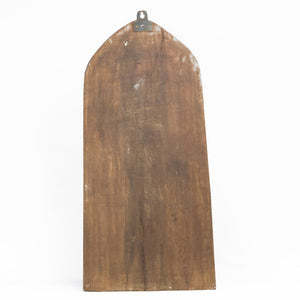 GODDESS KALI IN WOOD
This vintage and remarkable rare collectible is a wooden idol of Goddess Kali with her foot on Lord Shiva's chest. This beautiful and striking artefact is from Kerala (Palakkad region). It is made of jack fruit wood and adorned with vegetable oil paint mixed with stone powder.
Goddess Kali or Mahakali is regarded as the most fierce and destructive form of Shakti. She is the destroyer of evil. Lord Shiva is her consort. Kali is always depicted as being black or blue in colour, with her hair dishevelled, small fangs protruding from her mouth, tongue rolled out, naked but for a skirt made of human arms and garland of human heads. Her four armed form is shown carrying a sword, a trishul, a severed head and a bowl or skull cup. Lion is her mount.
This is one of the most popular depictions of the Goddess. The famous legend goes that there was a demon called Raktabeeja who had a boon from Brahma that with every drop of blood that is dripped from him, he produces another Raktabeeja. Armed with this boon, he attacks the Gods who are unable to defeat him. The Gods ask Devi for protection who then takes the form of Kali.
Kali defeats the army of demons and kills Raktabheeja by drinking his blood. Consumed by the blood of Raktabeej and other demons, Kali continued her rampage and dance of destruction. The Gods, terrified by this went to Shiva for defence. Shiva fearing that Kali would not  stop till she destroyed the world, lay down on the battlefield in front of her. Seeing her consort under her foot, Kali realised she had gone too far and calmed down.
This unique and divine idol will be an exquisite collectible that is very hard to come by.
The Antique Story
GODDESS KALI IN WOOD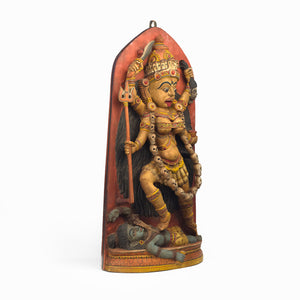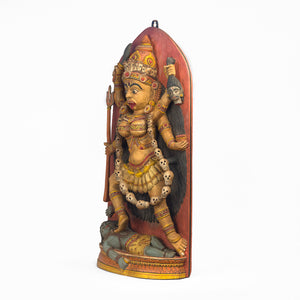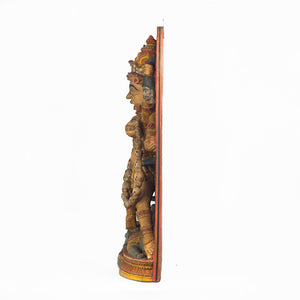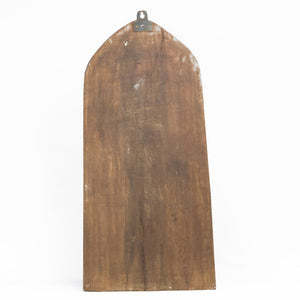 X
GODDESS KALI IN WOOD
info@theantiquestory.com
Thank you. We are happy that this beautiful collectible is finding a lovely home! Please leave your contact details so we can confirm it's availability and let you know the shipping costs for you to complete the purchase.