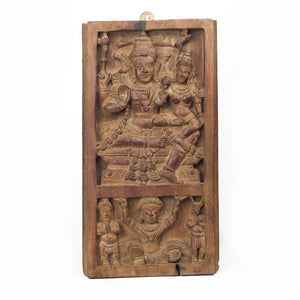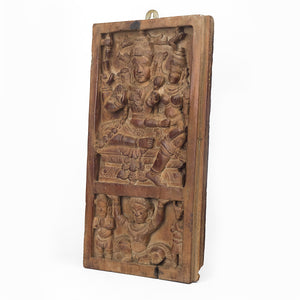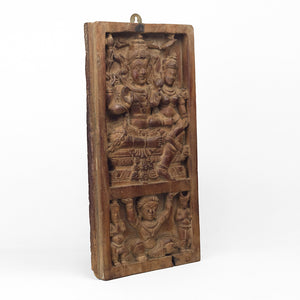 RAVANA TRYING TO LIFT MOUNT KAILASH
This beautiful and intricately hand carved vertical wooden panel has Shiva and Parvati on the top and Ravana with Nandi at the bottom half . This vintage panel is believed to be from Central Kerala.
The depiction on this panel is called Ravananugraha (form showing favour to Ravana). According to the legend, Ravana is flying back to his abode after defeating his brother Kubera. However his Pushpaka vimana is unable to fly over a mountain. Ravana then gets down and meets Nandi, Shiva's mount who tells him that he can not fly past Mount Kailash, Shiva and Parvati's abode and disturb their dalliance. Ravana insults Nandi who in return curses Ravana that he will be destroyed by monkeys.
Ego gets the better of Ravana who is in fact an ardent devotee of Shiva and he starts shaking Mount Kailash in an attempt to uproot it. This frightens Parvati. Shiva then presses on the mountain with his big toe of his foot trapping Ravana underneath the mountain for about a thousand years. Ravana sings hymns of praise of Shiva all the years and gets a pardon from the Lord.
This decorated wooden panel will add devotional and ethnic charm to your décor.         
The Antique Story
RAVANA TRYING TO LIFT MOUNT KAILASH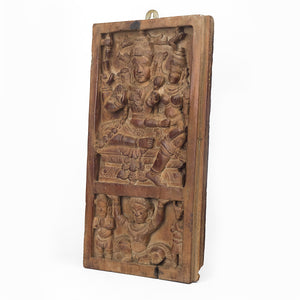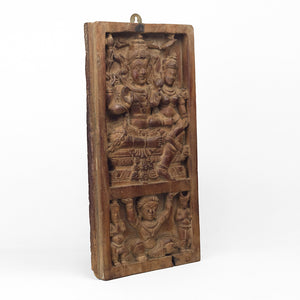 X
RAVANA TRYING TO LIFT MOUNT KAILASH
info@theantiquestory.com
Thank you. We are happy that this beautiful collectible is finding a lovely home! Please leave your contact details so we can confirm it's availability and let you know the shipping costs for you to complete the purchase.