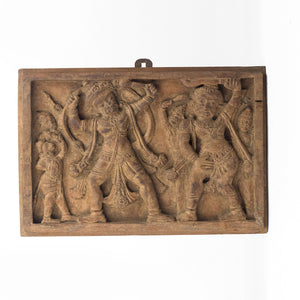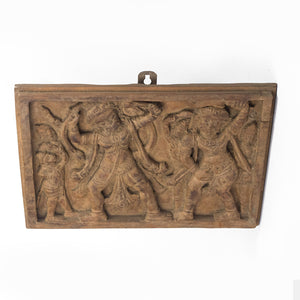 HANUMAN DURING THE BATTLE OF LANKA
This beautiful and intricately hand carved horizontal wooden panel depicts Lord Hanuman engaged in a battle with a figure believed to be an Asura (Demon). This vintage panel is believed to be from Kerala.
Hanuman, the biggest devotee of Lord Ram is one of the central characters from the epic Ramayan. He is regarded as the ideal combination of strength (Shakti) and devotion (Bhakti). Hanuman is one of the most popular and revered figures in Hindu mythology. The legend of Hanuman also appears in mythology across South East Asia in countries like Thailand, Indonesia, Cambodia, Myanmar etc.
This decorated vintage wooden panel will add antique and ethnic charm to your décor.         
This panel is photographed without touching its original condition, it can be cleaned and polished to suit your needs.
The Antique Story
HANUMAN DURING THE BATTLE OF LANKA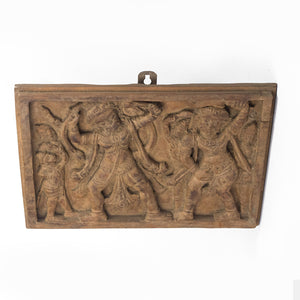 X
HANUMAN DURING THE BATTLE OF LANKA
info@theantiquestory.com
Thank you. We are happy that this beautiful collectible is finding a lovely home! Please leave your contact details so we can confirm it's availability and let you know the shipping costs for you to complete the purchase.