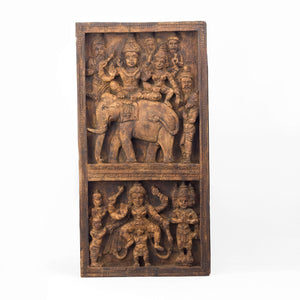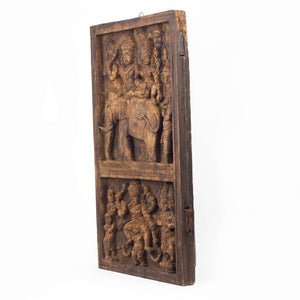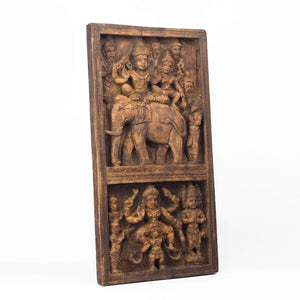 SHIVA AND PARVATI ON ELEPHANT
This beautiful and intricately hand carved vertical wooden panel has Shiva and Parvati on an Elephant on the top and Lord Vishnu on his mount Garuda along with Brahma at the bottom half . This vintage panel is believed to be from Kerala. This panel has the complete Hindu Trinity on it – Brahma, Vishnu and Shiva.
The top portion of the panel depicts God Shiva and Goddess Parvati atop an Elephant.  Shiva, the most popular Hindu deity is the destroyer of evil and the transformer. Shiva is depicted in both benevolent and fierce forms. In his benevolent form, he is either a hermit or living with Parvati on Mount Kailash. In his fierce form, he is depicted as slaying demons and performing Rudra tandava.
The bottom half of the panel has Lord Brahma and Lord Vishnu – Creator and Preserver of the universe respectively and the two principal deities of Hindu Trinity. Here, Vishnu is also seen on his mount, Garuda. As per Hindu iconography Lord Brahma has four faces, holding a lotus, Vedas and kamandalu.
This decorated wooden panel will add devotional and ethnic charm to your décor.         
The Antique Story
SHIVA AND PARVATI ON ELEPHANT
X
Raise an Inquiry for Similar Pieces.