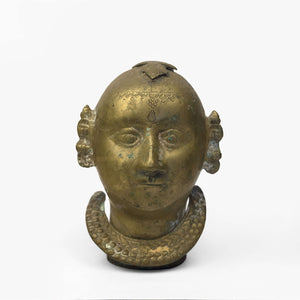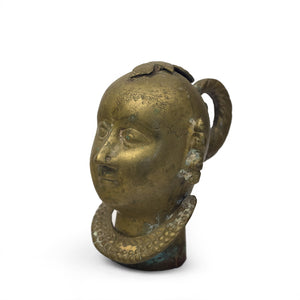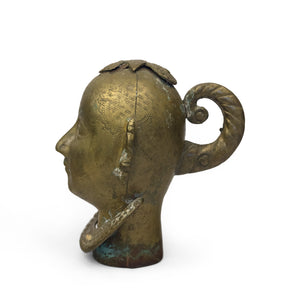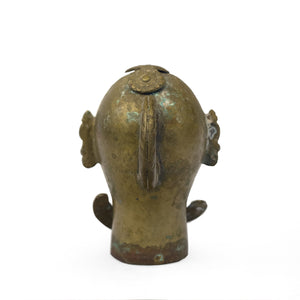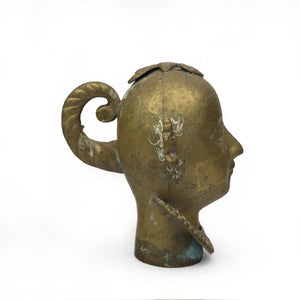 GOWRI HEAD
This beautiful and unique idol is a face of Goddess Gowri. The bejewelled and intricately decorated face made of bronze is believed to be from South India (Karnataka or Tamil Nadu). 
Goddess Gowri is Shakti or Mother Goddess and an incarnation of Parvati. Gowri is the domesticated and benevolent form of Parvati while Kali is the other extreme form. Gowri also successfully domesticates Shiva who till then lived as an ascetic with no interest in the world.
Parvati or Gowri is the mountain princess -daughter of Himavan – God of Himalayas who brings Shiva, the hermit down from Mount Kailash to the city of Kashi to engage with the world.  Gowri in her previous birth was Sati who is the first wife of Lord Shiva.
Handpicked for their originality and allure, this handpicked unique vintage piece is sure to add radiance to your interiors. The object is photographed in the condition it was in, it can be polished and cleaned to reveal details.
The Antique Story
GOWRI HEAD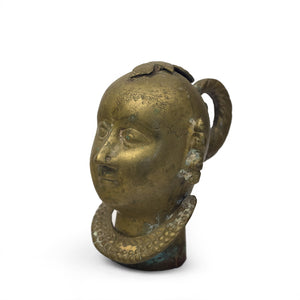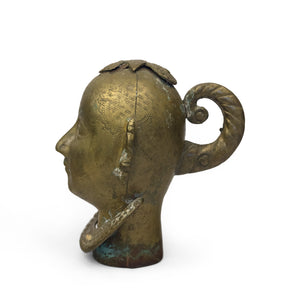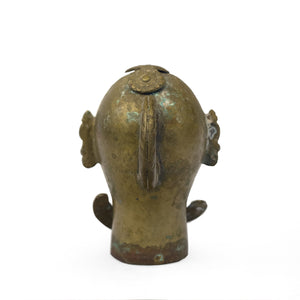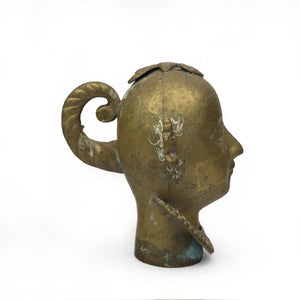 X
GOWRI HEAD
info@theantiquestory.com
Thank you. We are happy that this beautiful collectible is finding a lovely home! Please leave your contact details so we can confirm it's availability and let you know the shipping costs for you to complete the purchase.