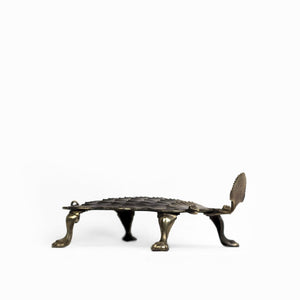 COCONUT GRATER
This interesting object in the shape of a Tortoise is a vegetable grater and coconut scraper from Gujarat must have been a part of traditional kitchen.
The main body is used to grate vegetables while the sculpted head is used to scrape coconut. The design of this everyday object stands testimony to the creativity and craftsmanship practised in the days.
This handpicked vintage coconut grater will make a cool statement in your kitchen.
The Antique Story
COCONUT GRATER

X
COCONUT GRATER
info@theantiquestory.com
Thank you. We are happy that this beautiful collectible is finding a lovely home! Please leave your contact details so we can confirm it's availability and let you know the shipping costs for you to complete the purchase.