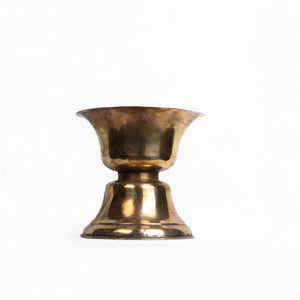 This vintage bronze vessel is believed to be from Uttar Pradesh and must have been a part of traditional kitchens there. You can use this unique-shaped vessel as a table top décor or as a flower vase in your living room or lounge. It will also make a charming addition to your vintage-themed restaurant.
This vintage bronze vessel has a flat bottom that is slightly raised. The top and bottom halves are attached by metal rivets. Its hammered finish enhances its authenticity. 
At The Antique Story, we have an excellent selection of antiques online, perfect for living room or kitchen decoration. We source vintage items from all over the country and verify their authenticity. Browse our website for more rare artefacts.
The Antique Story
VINTAGE BRASS VESSEL

X
VINTAGE BRASS VESSEL
info@theantiquestory.com
Thank you. We are happy that this beautiful collectible is finding a lovely home! Please leave your contact details so we can confirm it's availability and let you know the shipping costs for you to complete the purchase.