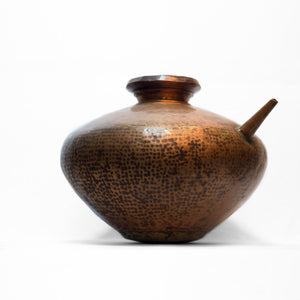 This vintage metal pot, a reminder of the simple life of the bygone era, is thought to be from Rajasthan. You can use this vintage pot as a tabletop decoration or as a flower vase. This metal pot will also make a charming addition to your living space.
This beautiful and antique collectible is a water pot believed to be from Rajasthan. Water pots were used to store drinking water and in some cases were used in ceremonies and rituals to hold holy water.
This beautifully shaped water pot with a snout for pouring water, is made of brass. It also has the name of its owner inscribed on it. If you are checking more such interesting home and kitchen design ideas, The Antique Story is your best bet. From antique brass items to vintage wooden items and vintage pots, we have authentic and rare artefacts from various parts of our country.
The Antique Story
UNIQUE SHAPED METAL WATER POT WITH A SPOUT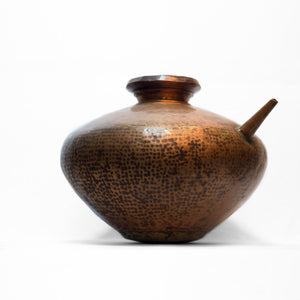 X
UNIQUE SHAPED METAL WATER POT WITH A SPOUT
info@theantiquestory.com
Thank you. We are happy that this beautiful collectible is finding a lovely home! Please leave your contact details so we can confirm it's availability and let you know the shipping costs for you to complete the purchase.