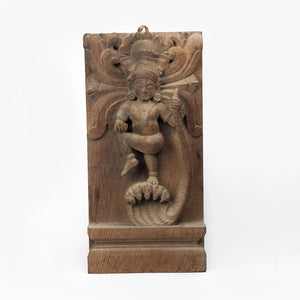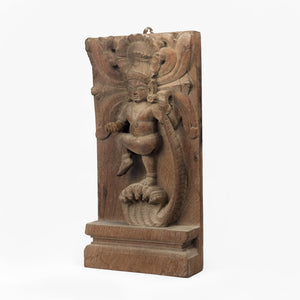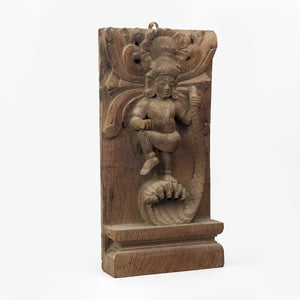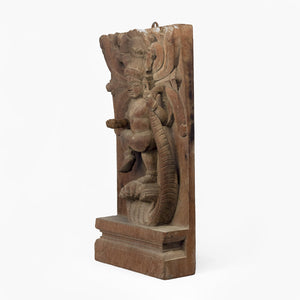 KRISHNA ON KALINGA
This beautiful and intricately hand carved wooden panel has Lord Krishna (9th avatar of Lord Vishnu) on the serpent Kalinga. This vintage panel is believed to be from Tamil Nadu.
Kalinga was a serpent who had started living in the Yamuna river in Vrindavan and had poisoned the entire river thus making it very difficult for the residents and animals of Vrindavan. He was hiding there from Garuda, his eternal enemy. Once Krishna jumped into the river to retrieve a ball, Kalinga immediately tried to kill him. Krishna then grew to big proportions to take control over Kalinga and started dancing on his hood. He spared Kalinga on the behest of Kalinga's wives and only when Kalinga promised not to harm anyone. Kalinga agreed to go back to his abode as his hood now carried the foot marks of Lord Krishna which would lend Garuda incapable of harming him. This episode is remembered as Kalinga Narthana in South India.
This decorated wooden panel will add devotional and ethnic charm to your home décor.         
The Antique Story
KRISHNA ON KALINGA
X
Raise an Inquiry for Similar Pieces.