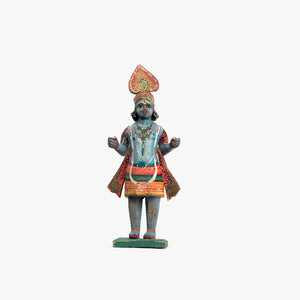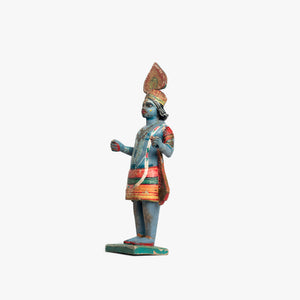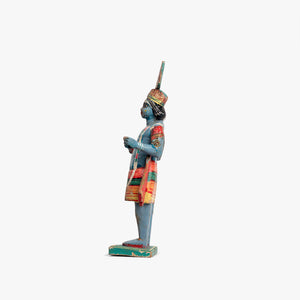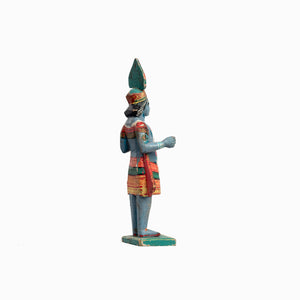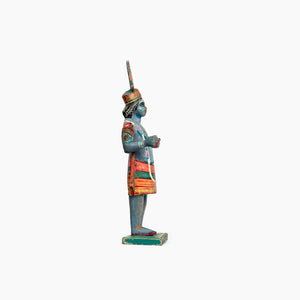 WOODEN KRISHNA IDOL 
Lord Krishna, the eighth avatar of Lord Vishnu, is one of the most popular and loved  deities of Hinduism. Hindu iconography depicts Krishna with dark or blue skin, wearing a peacock feather in his crown and playing a flute. He is sometimes also shown with cows and in some cases in his romantic form with gopis (milkmaids).
Krishna is the central character in Bhagavad Gita, the sacred scripture of Hindus. Krishna's childhood and youth is filled with many legends that depict his divine powers like lifting the Govardhana hill to protect people from torrential rains, his win over the serpent king Kalinga and lots more.
This antique Krishna statue is much more than a collector's item. It is a representation of the God revered by the Hindus. This Krishna statue is about 38 H cm high and has been painted in bright and vibrant colours. The statue is placed on a rectangular base.
Add a touch of divinity and vintage charm to your home décor with this antique Krishna statue. Find antique décor items and vintage paintings curated from different parts of India at The Antique Story, a niche online store for vintage collectibles.
The Antique Story
WOODEN KRISHNA IDOL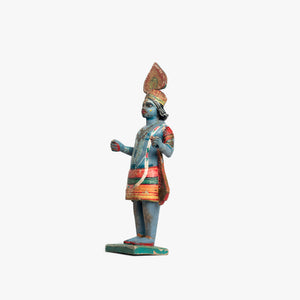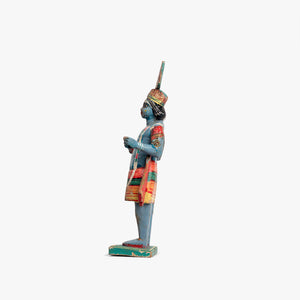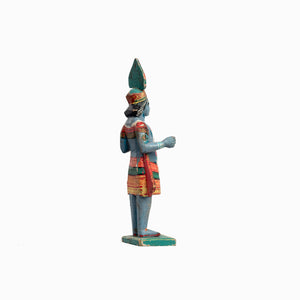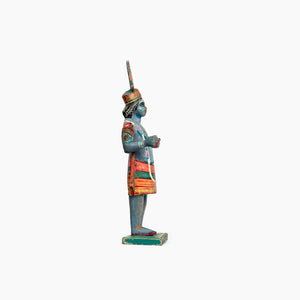 X
WOODEN KRISHNA IDOL
info@theantiquestory.com
Thank you. We are happy that this beautiful collectible is finding a lovely home! Please leave your contact details so we can confirm it's availability and let you know the shipping costs for you to complete the purchase.