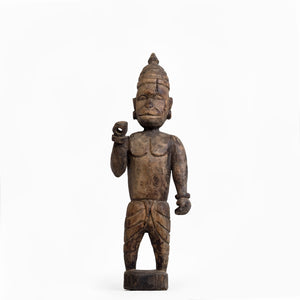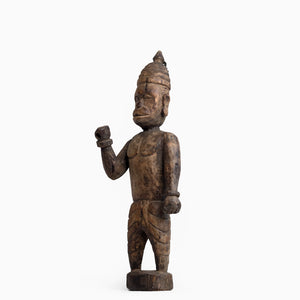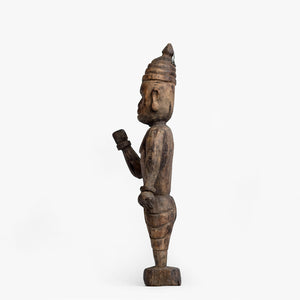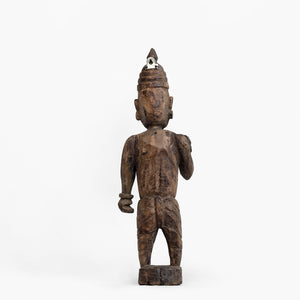 WOODEN IDOL OF HANUMAN
This vintage Hanuman statue is a collector's item that has been handpicked for its originality. Carved from wood, this statue shows Hanuman in a standing pose. His right hand is raised as if he was holding his weapon. This antique God idol has been handcrafted with intricate detailing of the body, attire, bracelets, and crown. Hanuman is shown with his eyes closed. 
Hanuman, a staunch devotee of Lord Ram, is one of the central characters of the epic Ramayana. Hanuman is a Vanara, a monkey-like humanoid. He is regarded as the ideal combination of strength (Shakti) and devotion (Bhakti). Hanuman is one of the most popular and revered figures in Hindu mythology.
As per Hinduism, Hanuman, also called the son of Vayu (wind god), was born to Anjani and Kesari. The legend of Hanuman also appears in mythology across South East Asia in countries like Thailand, Indonesia, Cambodia, and Myanmar.
At The Antique Story, you will find antique God idols curated from authentic sources. You can buy this Hanuman idol online at our e-store. For more interesting and rare interior decoration items, browse our website.
The Antique Story
WOODEN IDOL OF HANUMAN
X
Raise an Inquiry for Similar Pieces.