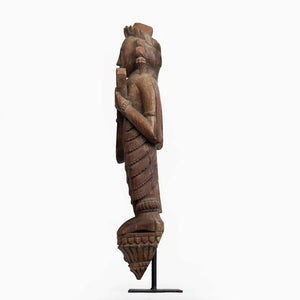 WOODEN IDOL OF A MUSICIAN 
This exquisite vintage collectible is a hand-carved wooden idol of a musician. It is from Gujarat. This vintage wooden statue has been handpicked for its originality. The wooden idol has been exquisitely hand carved with an eye for detail, especially the tiered attire and the ornamentation. He is standing on a lotus pedestal and is playing a string instrument. 
This antique wooden statue is a showpiece to design your home interiors. Place this vintage item on a side table, in a display cabinet or on the counter of your retail outlet. It is a great conversation starter and adds a touch of vintage charm to any interiors.
The Antique Story it a curated online store that specialises in vintage handicrafts, vintage statues, antique furniture, and other vintage collectibles. Browse our website to find rare artefacts to add to your collection or to enhance any décor.
The Antique Story
WOODEN IDOL OF A MUSICIAN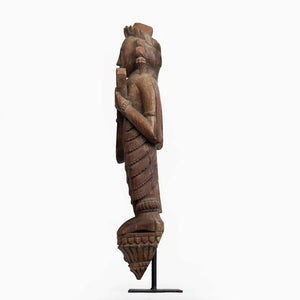 X
WOODEN IDOL OF A MUSICIAN
info@theantiquestory.com
Thank you. We are happy that this beautiful collectible is finding a lovely home! Please leave your contact details so we can confirm it's availability and let you know the shipping costs for you to complete the purchase.