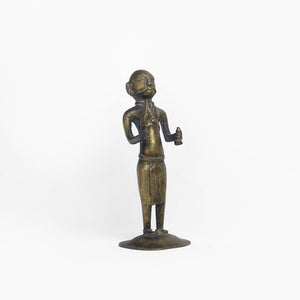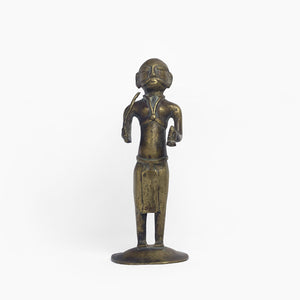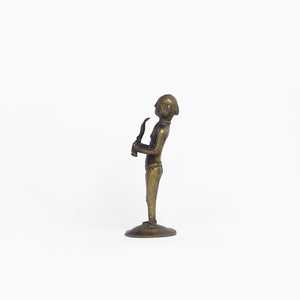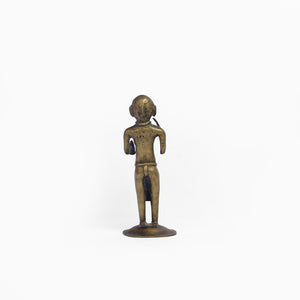 This rare and vintage collectible is an unique statue of a man with a distinct moustache holding a sword. With a knee length dhoti, he seems to be dressed like a Lingayat warrior from North Karnataka. This interesting idol is believed to have been made using Lost Wax technique.
Lost wax technique of bronze casting is an age-old method dating back to at least 5700 years. This method gained prominence in India during the Chola period in the 11th century. 
The lost wax technique includes a series of distinct stages which begins with an artist creating an original detailed model from wax (mixture of beeswax and resin). Then the actual mould that covers the wax statue is made using white clay, pasty mixture, rice husk and sand. Once the mould is dry, a small hole is made in the mould and it is heated so that the wax melts and runs out leaving the mould hollow. Molten bronze is then poured through the hole and it is left to cool. The outer mould is then chipped away to uncover the bronze statue. Delicate reconstructive work is done on it for the final finishing.
All the idols made using this method are one of a kind and can never be reproduced as the mould needs to be broken to take out the casting.
The Antique Story
WARRIOR MAN FROM NORTH KARNATAKA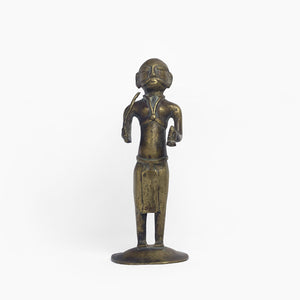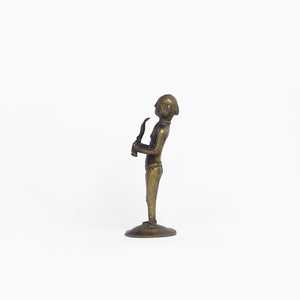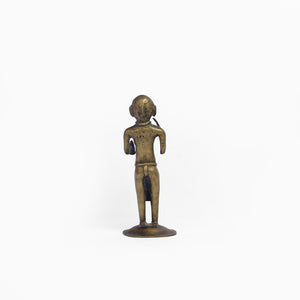 X
WARRIOR MAN FROM NORTH KARNATAKA
info@theantiquestory.com
Thank you. We are happy that this beautiful collectible is finding a lovely home! Please leave your contact details so we can confirm it's availability and let you know the shipping costs for you to complete the purchase.