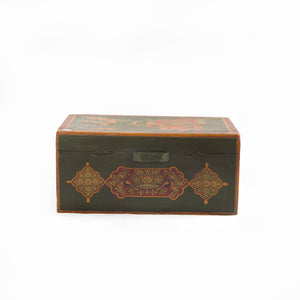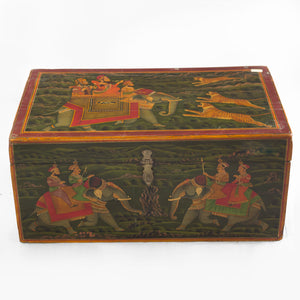 PAINTED WOODEN CHEST
This regal collectible is a painted wooden chest from Rajasthan. The chest is made of hard wood and has been painted all over. The painting depicts a hunting party in a jungle - opulently dressed royals carrying guns riding exquisitely decorated Elephants. All the mahouts are shown carrying golden Ankush to mind the Elephant. The lid of the chest narrates the hunting scene where the royals atop the Elephant are shown hunting one of the 3 tigers that are attacking the party.  The sides of the trunk show a royal couple playing Ludo and relaxing. The chest also has several wooden compartments and small drawers inside to store and organise different articles.
Such exquisitely painted chests were used for many purposes – as a jewellery box, a dowry box given as a part of the bride's or for storage.
This vintage chest is a reminder of India's rich heritage and royal past. It will add a regal touch to your living room or any living space.
The Antique Story
PAINTED WOODEN CHEST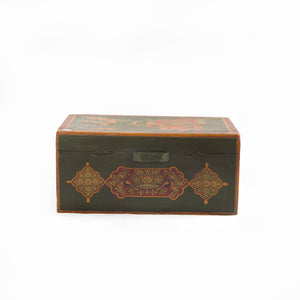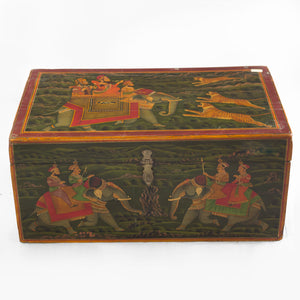 X
PAINTED WOODEN CHEST
info@theantiquestory.com
Thank you. We are happy that this beautiful collectible is finding a lovely home! Please leave your contact details so we can confirm it's availability and let you know the shipping costs for you to complete the purchase.