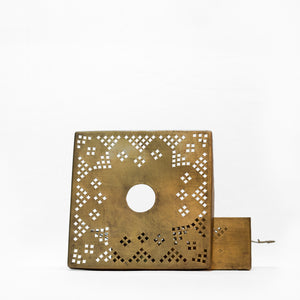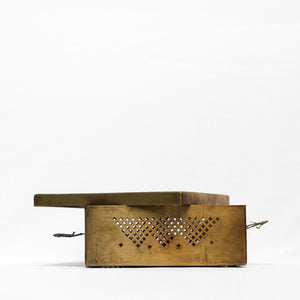 METAL BOX WITH  LATTICE WORK
This beautiful and antique collectible must have been a pan box from Rajasthan. Pan boxes were used to keep rolled betel leaf stuffed with betel nut, lime paste and other mixes. But this one was used to keep fresh betel leaves.  Chewing this mixture of betel nut and betel leaf sometimes mixed with tobacco and other flavours is a tradition, custom or ritual which dates back thousands of years from India to the Pacific
This elaborately decorated pan box is made of brass and has a hole in the centre. The intricately cut out patterns carved all over the box must have served dual purposes of decoration and ventilation.
Handpicked for their originality and allure, this handpicked unique vintage piece is sure to add radiance to your interiors.
The Antique Story
VINTAGE METAL BOX WITH LATTICE WORK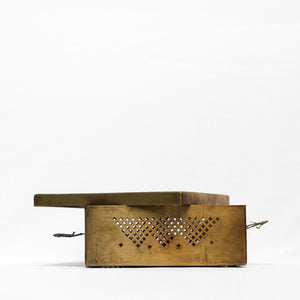 X
VINTAGE METAL BOX WITH LATTICE WORK
info@theantiquestory.com
Thank you. We are happy that this beautiful collectible is finding a lovely home! Please leave your contact details so we can confirm it's availability and let you know the shipping costs for you to complete the purchase.