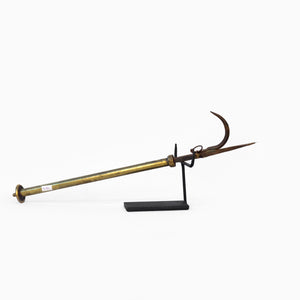 METAL ANKUSH
This metal Ankush with a sharp iron goad is a vintage and rare collectible.
Ankush is a tool which was used as an elephant goad in handling and training of elephants. It has a pointed hook usually made of bronze or steel and this is used as the main tool in handling the elephant.
This goad also has auspicious importance in Hinduism and is thought to be one of the eight auspicious objects known as the Ashtamangala. Lord Ganesha is sometimes shown holding an ankush in his right upper arm. 
Acknowledging the fact that handling elephants by piercing them with a sharp tool is an act of utmost cruelty, Indian government has banned the use of Iron ankush.
The Antique Story
METAL ANKUSH

X
METAL ANKUSH
info@theantiquestory.com
Thank you. We are happy that this beautiful collectible is finding a lovely home! Please leave your contact details so we can confirm it's availability and let you know the shipping costs for you to complete the purchase.