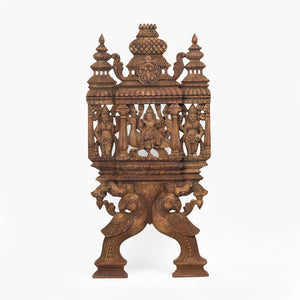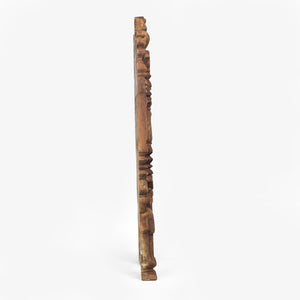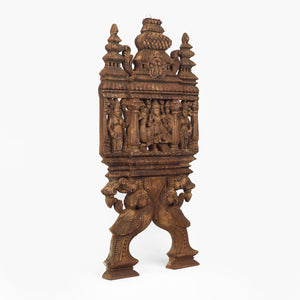 INTRICATELY CARVED KAVADI WITH MURUGAN
This beautiful and intricately hand carved vertical wooden panel is actually a shoulder panel that is carried during the Kavadi Attam. It has Lord Murugan on his mount Peacock carved on it as the central figures along with intricate details all over. This vintage panel is believed to be from Tamil Nadu .
Kavadi Attam which in Tamil translates into Burden dance is a ceremony for sacrifice and offerings practiced by devotees of Lord Murugan. On the day of the festival, the devotees set out on a set pilgrimage carrying different kinds of Kavadi (burden) like these wooden panels. It is symbolic of people carrying burdens in life and asking the Lord to release them from all the material bondage.
Lord Murugan, also known as Kartikeya, Skanda is the eldest son of Shiva and Parvati, and brother of Ganesha. He is also the Hindu god of war. The iconography of Murugan always shows him as ever youthful, on his mount Peacock and carrying weapons.
This decorated wooden Kavadi panel will add antique charm to any wall.         
The Antique Story
INTRICATELY CARVED KAVADI WITH MURUGAN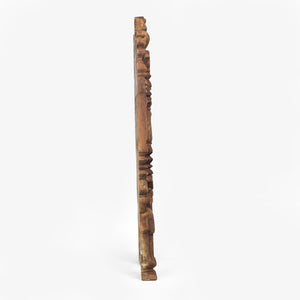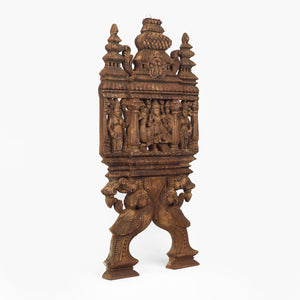 X
INTRICATELY CARVED KAVADI WITH MURUGAN
info@theantiquestory.com
Thank you. We are happy that this beautiful collectible is finding a lovely home! Please leave your contact details so we can confirm it's availability and let you know the shipping costs for you to complete the purchase.