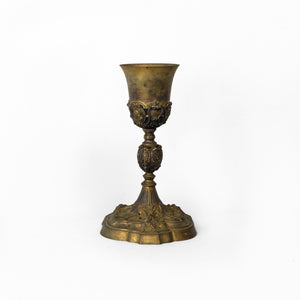 CHALICE  WITH EUROPEAN INFLUENCE
This vintage and rare collectible is a Chalice made. This intricately decorated Chalice that shows European influence is believed to be from Kerala. The Chalice has intricate fine carving that shows exquisite craftsmanship. It also comes with a  Pate – a cover for the Chalice.
A Chalice is a wide based cup that is intended to hold a drink. In religious practice, a Chalice is used for drinking during a ceremony. Chalices have been in use since the  early Church times. Since they played an important role in religious ceremonies,  they were highly decorated and treated with great respect.
This unique Chalice with a pate is a rare collectible that will add finesse to your home décor.
The Antique Story
CHALICE WITH EUROPEAN INFLUENCE

X
CHALICE WITH EUROPEAN INFLUENCE
info@theantiquestory.com
Thank you. We are happy that this beautiful collectible is finding a lovely home! Please leave your contact details so we can confirm it's availability and let you know the shipping costs for you to complete the purchase.