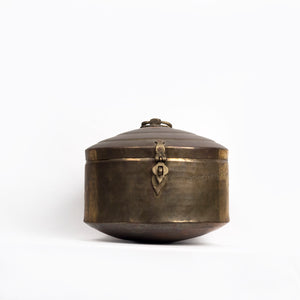 VINTAGE METAL BOX
This unique collectible is a metal box that must have been used in the traditional kitchens of Gujarat to store various things.
The brass box with very unique shape and self patterns on the lid is a great décor object for your outdoors.
This vintage box can be used to store trinkets or just as an decorative object to enhance your home décor.
The Antique Story
VINTAGE METAL BOX

X
VINTAGE METAL BOX
info@theantiquestory.com
Thank you. We are happy that this beautiful collectible is finding a lovely home! Please leave your contact details so we can confirm it's availability and let you know the shipping costs for you to complete the purchase.